Tuesday, April 1, 2008 at 11:54PM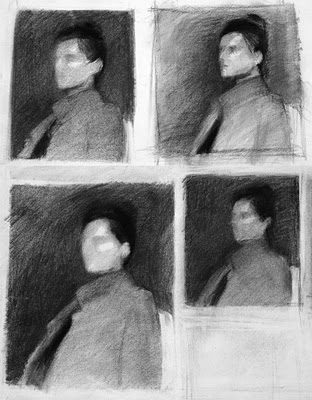 Two years ago, in Summer 2006, I set up an art studio in my loft, hired a series of models for a few weeks and started figure painting after nearly a decade away from art.
I was totally out of touch with the art world, and so I started poking around on the internet to see if any US galleries were showing figurative/realist work.
I immediately found Arcadia gallery in New York and was inspired, intimidated, and fascinated by the amazing work I found there. The painting "Nude with Tattoo" by Michael Grimaldi in particular stood out to me, and so I Googled his name to find out more about the artist.
One of the first search results was for a workshop Grimaldi had taught right here in my own back yard at Bay Area Classical Artist Atelier... but I had just missed his workshop by a few weeks! The BACAA web site said Grimaldi wouldn't be returning until 2008, so I had nearly two years to wait for his return.
In the meantime I looked around the BACAA web site and was amazed by all the incredible artists teaching there. So I signed up for a March 2007 workshop taught by Juliette Aristides, and began a new era of my art life. (You can read my blog post about that workshop with Juliette here.) I have since spent the last 14 months taking workshops with Juliette, Dan Thompson, and Ted Seth Jacobs.
Now, this week, the Michael Grimaldi 2008 workshop I have waited so long for has begun! The class is portrait painting, and we are starting with small thumbnail sketches to work out the composition and design of the final painting. Tomorrow I'll start blocking out the design and major proportions on my canvas. (The above sketches are charcoal on paper, each just a few inches.)
FRANCE
Two weeks from today I fly to France for a 3 week workshop at Studio Escalier. After the class Nowell is joining me and we'll spend another 3 weeks just hanging out in Paris. I'll be bringing my new pochade box, so watch for upcoming plein air oil sketches of Paris!
JULIETTE'S BOOK: CLASSICAL PAINTING ATELIER
Juliette Aristides' new book, Classical Painting Atelier has just been released and I just received my pre-ordered copy from Amazon today! I plan to spend the next couple hours poring over it before bed. From a quick peek it looks like a gorgeous follow-up to her first book, Classical Drawing Atelier. These are incredibly inspiring books, with beautiful reproductions by both classical and contemporary realist artists. I highly recommend them both for any art lover.